Discover the Better Way
to Boost Your Testosterone...
Finally, there's a safe and effective way to maintain healthy testosterone levels. One that stands head and shoulders above anything else you may have heard of or even tried. Because T-Boost® was scientifically formulated to increase and maintain your body's natural testosterone production.
And it works by delivering not one... or two... but THREE of nature's most potent and effective testosterone boosters. Starting with...
DHEA: The Healthy Way
to Boost Your Testosterone
The hormone dehydroepiandrosterone is better known as DHEA. And it's the safest and most powerful testosterone booster you can buy without a prescription.
That's because DHEA is the "parent hormone" or "precursor" of testosterone. It's made in your adrenal glands and testes, and is changed into testosterone when your body needs to boost your levels. DHEA is the most abundant hormone in your blood stream, but production declines as we grow older.
So by providing supplemental DHEA to your body, you're giving your body the building blocks it needs to manufacture testosterone. Which means it can then pump the life-enhancing hormone throughout your body, wherever it is most needed.
And while synthetic testosterone causes your body to slow down testosterone production, DHEA does just the opposite. It supercharges it!
What's more, the benefits of DHEA have been proven again and again. In fact, DHEA supplementation can produce such dramatic results, its use is banned by the World Anti-Doping Agency (WADA).
Clinical studies show DHEA supplementation...
...and these are just the tip of the iceberg. Which is why T-Boost® is formulated to give you a full 50 mg of DHEA in every dose!
But that's not all. In addition to DHEA...
You also get Tribulus Terrestris:
A Natural Energy Amplifier!
Tribulus terrestris is a flower extract first made famous as the "secret weapon" of the champion Bulgarian Olympic weightlifting team during the 1980s. The team credited T. terrestris in bringing home the gold. And after their streak of wins, researchers around the world rushed to study the substance's near-magical ability to build strength and testosterone.
One study on athletes showed that a daily supplement of T. terrestris resulted in a rise of blood testosterone as well as muscular strength after just 20 days.28 While other studies confirm its aphrodisiac qualities29, as well as its ability to increase blood testosterone by an average of 52%.30
Today, T. terrestris is sold as a standardized pharmaceutical preparation for muscle strength and sexual potency throughout Europe and Asia. In the United States, one of the few places you will find it is in our super-high potency formulation of T-Boost®. Where you get a whopping 250 mg in every dose!
Plus, you get Eurycoma Longifolia:
A Natural Sex Enhancer!
The third powerful, pure, and proven ingredient in our T-Boost® is Eurycoma Longifolia Jack.
Also known as Longjack, Malasian Ginseng, Tongkat Ali, and Pasak Bumi, this natural sexual enhancer has been used to treat erectile dysfunction in Southeast Asia for generations. The root and bark are also used to increase sexual desire, boost athletic performance, and reduce body fat.
And modern science has found plenty of evidence to back up the claims.
In one breakthrough study involving 109 randomized male subjects, E. longifolia Jack was proven to significantly improve libido, sexual performance, satisfaction, and physical functioning of subjects.31
In another clinical study, researchers concluded that "E. longifolia Jack is a potent stimulator of sexual arousal."32
Meanwhile, research shows E. longifolia Jack may also increase your body's testosterone. One study noted a testosterone increase of 37% following supplementation.33 While another involving 320 men found it increased testosterone as much as 46%!34
You get a full 40 mg of E. longifolia Jack in each dose of T-Boost®. And that's in addition to 50 mg of DHEA and 250 mg of T. terrestris. Which makes T-Boost® the most effective testosterone booster you can find.
So go ahead...
You don't have to suffer from low testosterone levels any longer. Because you can try T-Boost® today without risking a single dime. Because it's 100% RISK-FREE, backed by our 60-day Money Back Guarantee of Satisfaction.
Just give it a try. And if you aren't absolutely thrilled with your results – for ANY reason – simply return the unused portion within 60 days for a prompt refund of your full purchase price. No gimmicks. No hassles. And no questions asked. Return your unused portion for a full refund (excluding shipping and handling). Customer pays return shipping. No more than two bottles (your trial supply) may be opened or used to receive a full refund. Offer is good for 60 days from receipt of product. All free gifts are yours to keep.
Best of all, when you act now you can SAVE over 40% off the regular price. And get up to three of our prized health guides – a $59.85 value, FREE!
So why wait?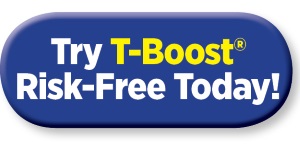 DISCLAIMER: Talk to your doctor or health care provider to determine if T-Boost® is right for you and are safe to take with your current prescriptions, medications and health conditions. Although this product has no known adverse side effects, higher testosterone levels can be dangerous for men with prostate cancer. Renown Health Products recommends that all men maintain regular checkups with your physician to screen for prostate cancer. Keep out of reach of children. Not for use by women. Do not use if you are under 21. Do not use if you are hypersensitive or allergic to any of the ingredients, if you have a serious medical condition, or if you have a history of cancer, heart, kidney or liver conditions. Consult your physician prior to using this or any new product. Do not start or stop any prescribed medication or treatment without first consulting your doctor or health care provider. All products found on our site have not been evaluated by the Food and Drug Administration. These products are not intended to diagnose, treat, cure, or prevent any disease. No claim or opinion on these pages is intended to be, nor should be construed to be, as medical advice.