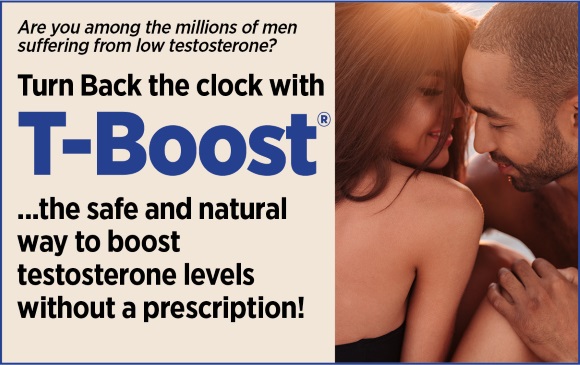 If you're feeling old before your time... that you just aren't the man you used to be... it might be because you don't have enough testosterone in your system. And you're not alone.
An estimated 1 in 4 men over age 30 have low testosterone.6
Testosterone levels in men peak in the twenties, then steadily decline. As you can see in the table below, men lose nearly a third of our testosterone by age 50. And by age 60, our testosterone levels are down to nearly half their peak.7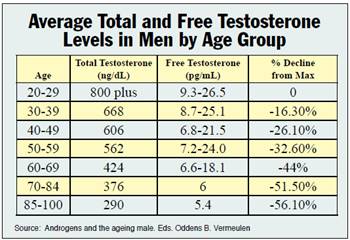 And that's a serious problem. Because "Low T" doesn't just affect our sex drive.
According to the Journal of Andrology, low testosterone – also known as "andropause" – decreases your strength, endurance, and enjoyment of life. And low levels of testosterone have been shown to have adverse effects on visceral fat, libido, mood, energy, memory, and joint health. It could even affect your lifespan!8
Do you have enough "T" in your tank?
So how do you know if you have low testosterone? Doctors can run expensive tests to check your levels to be certain – if you can convince them to run them. All too often they just chalk up your complaints to "simply part of growing old."
But chances are if you have "Low T", you're already feeling the effects. And once you know what they are, you can do something about it. So here is a list of symptoms you might recognize:
Lowered sex drive
Loss of erections
Taking longer to recover from injuries and illness
Lethargy and less energy
Muscle weakness and aches
Morning stiffness
"Spare tire," feeling fatter or gaining weight
Inability to sleep
Excessive sweating
Cold hands and feet
Itching
Irritability and anger
Anxiety and mood swings
Loss of self confidence and purpose in life
Thinning bones
Less stamina on the job
Declining memory and concentration
Did you relate to 2 or more of the above symptoms? If so, you might be suffering from low levels of testosterone. But you don't have to.
Don't suffer "Low T" any longer.
Instead, be like James, and DO
something about it today!
From "Average Joes" to presidents, men everywhere are experiencing the life-changing benefits of healthy testosterone levels thanks to T-Boost®. Including famed financial wizard, entrepreneur, publisher, and Renown Health Products president James DiGeorgia.
When James reached his forties, he had black belts in Judo, Ju Jitsu and Karate. He had a highly successful career and was blessed with a beautiful wife and family. But he felt like he was 40 going on 100. He felt so weak and lifeless it was like he already had one foot in the grave.
His friends and doctors told him it was normal. That it was just part of getting older. But then his wife stumbled across an article about testosterone decline in men over 40. James was shocked. It was like the article was talking about him personally!
So he hunted down specialists and spent $50,000 to find out what his real problem was. And you guessed it – his testosterone levels were seriously low!
Once James finally got his testosterone levels back up, he couldn't believe the difference:
He started weight lifting again; pressing 250 lbs like it was a box of matchsticks...
He went back to Judo and to teaching Ju Jitsu, throwing around 20-year-olds like bags of laundry...
He could spend hours playing "tag" with his kids instead of huffing and puffing after only a few minutes...
And while James is reluctant to discuss his sex life, he admits his wife Lisa has never been happier. Because when you can deliver the same intense lovemaking in your 40s and 50s that you did in your 20s, your marriage benefits dramatically!
The change James experienced was so amazing, so life-altering, he swore to help get the word out to other men. To help them realize they didn't have to feel tired, old, and over the hill.
He also searched the world for the very best, most advanced testosterone booster – bar none. And James was so impressed with T-Boost®, HE BOUGHT THE COMPANY to help others get a new lease on life like he did!
Enjoy the Body of a Much Younger Man
Well Into Your 60s... 70s... 80s...
...and even beyond!
Who says you have to give in to getting older and watch helplessly as your manhood slips away? Forget that! A review published in the Journal of the American Geriatrics Society of 29 studies on testosterone replacement for older men suffering with low T finds that boosting your levels can increase lean body mass, decrease fat mass, and improve upper and lower body strength, sexual functioning, and mood.
The safe, natural, and proven ingredients in T-Boost® can help you bring your testosterone levels back where they belong. So you can enjoy the energy, strength, and sex drive of a 20 year old.9
T-Boost® contains three proven ingredients to help you boost your testosterone levels safely and naturally. Including DHEA, a natural hormone your body turns into testosterone so quickly it's sometimes referred to as "sexual rocket fuel."
So you can TAKE BACK your manhood – and your life – once and for all!
Unlike James, you don't have to spend tens of thousands of dollars to get back your life and enjoy healthy testosterone levels at any age. Because now you can try T-Boost® 100% RISK-FREE!
Simply give it a try. And if you aren't absolutely thrilled with your results – for ANY reason – simply return the unused portion within 60 days for a prompt refund of your full purchase price. No gimmicks. No hassles. And no questions asked! Return your unused portion for a full refund (excluding shipping and handling). Customer pays return shipping. No more than two bottles (your trial supply) may be opened or used to receive a full refund. Offer is good for 60 days from receipt of product. All free gifts are yours to keep.
Best of all, you'll also save big off the regular price.
Plus, you'll also receive up to three FREE health guides. Valued at $19.95 each, these guides are jam-packed with valuable tips, tricks and information. And they're yours to keep, no matter what!
So why wait?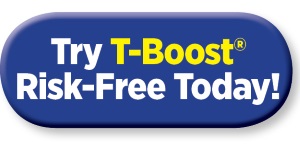 DISCLAIMER: Talk to your doctor or health care provider to determine if T-Boost® is right for you and are safe to take with your current prescriptions, medications and health conditions. Although this product has no known adverse side effects, higher testosterone levels can be dangerous for men with prostate cancer. Renown Health Products recommends that all men maintain regular checkups with your physician to screen for prostate cancer. Keep out of reach of children. Not for use by women. Do not use if you are under 21. Do not use if you are hypersensitive or allergic to any of the ingredients, if you have a serious medical condition, or if you have a history of cancer, heart, kidney or liver conditions. Consult your physician prior to using this or any new product. Do not start or stop any prescribed medication or treatment without first consulting your doctor or health care provider. All products found on our site have not been evaluated by the Food and Drug Administration. These products are not intended to diagnose, treat, cure, or prevent any disease. No claim or opinion on these pages is intended to be, nor should be construed to be, as medical advice.